At a time before regular transcontinental travel and virtual exploration of foreign lands became commonplace, many Thai people perceived Canada as a cold, vast country consisting of Niagara Falls, Toronto, Ottawa, Montreal and Vancouver. A broader exposure to the realities of Canadian life for several Thai students, however, came about in the mid-sixties when they arrived in the Province of Alberta and took the opportunity to study at the University of Alberta. This initial contact became the starting point for what would become the Alberta Thai Association and a lasting partnership with Canada as a whole.
In 1966, the Canadian government provided assistance to the Thai government to improve secondary education in Thailand. The goal was to transform the formerly academic-oriented system of learning into a comprehensive one. Close to 200 Thai teachers and administrative personnel attended the University of Alberta between 1966 and 1971 for educational training. A shorter, but similar, training program funded by theThai government was also instituted between 1975 and 1978. Under both programs, many Canadian professors and other educational professionals visited Thailand as advisors and became consultants for the Thai Ministry of Education. With educational exchange arose an opportunity for cultural sharing. The mutually beneficial interactions between Thai and Canadian educators soon inspired a small group of University of Alberta students from Thailand to form a Thai association in Alberta.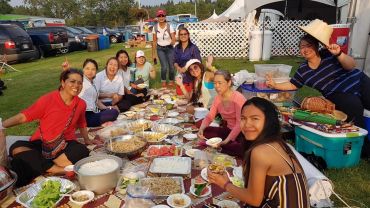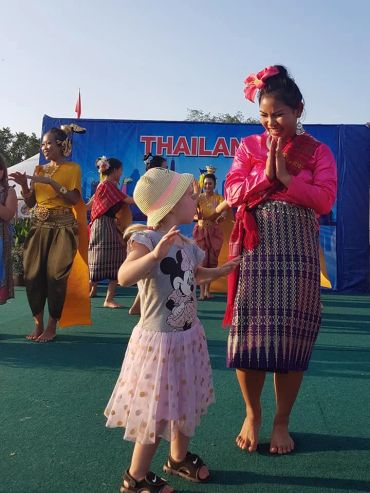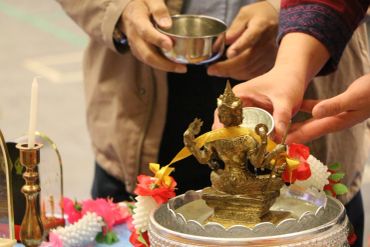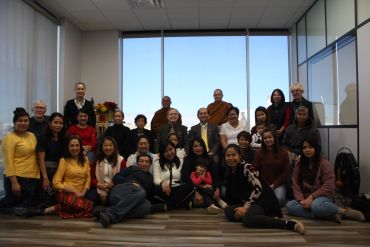 The ideals of the initial group that gathered in 1966 were to promote friendship and understanding among Thais and Canadians, to maintain Thai culture within the group's participants, to develop culturally-based social activities and to encourage unity and communication among its members. At this stage, membership was small and activities were limited to members of the university community. The activities also included publishing a membership directory and newsletters for members and friends, holding "Thailand" exhibits and "Thai Night" on campus, gathering for socials, and meeting and electing officers for the evolving group.
The Association Takes Shape. On October 23, 1984, Mr. Sombot Patayanikorn, Mr. Boon-oom Gosinet, Mr. Pornchai Pannopsri, Mr. Anan Kaewmongkol, Mr. Somchai Chuchat and Mrs. Banyong Gosinet (witness) submitted an application to Alberta Consumer and Corporate Affairs to form "The Alberta Thai Association". This pioneering group met on January 4, 1985 to begin planning work for the hoped-for Association with these core values and objectives in mind:
Objectives and Core Values
They studied and formulated bylaws regarding the duties and responsibilities of positions on the Executive and planned for activities they would offer to future members. (In January 1985, forty Thai families—totalling nearly 100 people—and twenty-eight Thai students were living in Edmonton and the surrounding area.) The idea of a Thai Association in Alberta was finally formalized four months later when the initial application was approved by the Government of Alberta on May 2, 1985 (Certificate of Incorporation Number 50319815).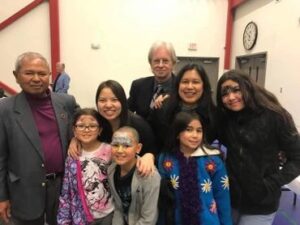 The membership of the Association relied on the participatory efforts of the executives, their families and friends, and, of course, students. In those early days, Chanpen and Nivat (Mark) Chainarongpinij from Calgary commuted to events in Edmonton to contribute to the cause; they went on to help form the Alberta Thai-Canadian Association – Calgary (ATCA), but are still involved with Association events today. Thai students, especially at the university level, also continue to promote Thailand and Thai culture in Canada through their work with the Association. Although student numbers tend to fluctuate due to attrition, graduation, and migration, Thai students are a mainstay of the Association, bringing with them a fresh and current perspective of Thailand to Alberta. For many years, the Thai student body at the University of Alberta formed their own association called the Thai Students Association at the University of Alberta (TSA), their mandate including support for Thai students living in Alberta and providing up-to-date news about Thailand. Growing Pains-Growing Pleasures The Association has endured through several changes in membership and executive over its history, much to the delight of some and the dismay of others. As with most nonprofit organizations, the Thai Association has experienced its share of conflicts. At one point in the Association's history, a group of concerned members threatened to take legal action against the Board over issues of autocracy, the inappropriate use of funds, and irregular accountancy. The Board was voted out and eligible members were selected to assume executive roles on an Interim-Board. A new Board was elected at a subsequent General Meeting and the Association came back in service to their members. The evolution of group dynamics surrounding the Association has also brought about many positive modifications to the way in which the Association operates today. For example, its bylaws have been reviewed and amended to be more community-oriented; a more Western-style administrative system clean, clear, fair and democratic has been implemented; and objectives have been reworked to be more inclusive of other ethnic and non-profit groups (such as the Edmonton Heritage Festival Association). In terms of fund-raising activities, new initiatives the Casino drives, in particular have been pursued more enthusiastically 
BOARD OF DIRECTORS – 2023
President: Buncha Ooraikul
Vice President: Nami Kominek
Treasurer: Ngamta Tekauyporn
Secretary: Wanna Saksaranrome
Director of Fundraising: Nichapat Jitpraphan
Director of Activities: Chatdrapond Wangbamroongsak
Director of Information: Firdaus Khambatta 
Chairperson of Programs: Jitra Kriangkum, Ladarat Ooraikul
Chairperson of Awards and Scholarship: Buncha Ooraikul
Chairperson of Thai Pavilion at Edmonton Heritage Festival: Nami Kominek and Marty Bester have been appointed for 2024
Chairperson of Casino: Sue Ooraikul Thomas
Selection Committee members: Ngamta Tekauyporn, Anan Limsombutana
THE FIRST EXECUTIVE COMMITTEE
PRESIDENT: Mr. Boon-oom Gosinet
VICE PRESIDENT: Mr. Buncha Ooraikul
SECRETARY: Mr. Anan Kaewmongkol
TREASURER: Mr. Sombot Patayanikorn
DIRECTOR ACTIVITIES : Miss Ngamta Tekauyporn & Mr. Sanguan Parnmukh
DIRECTOR FUNDRAISING: Mrs. Kritsana (Saruprath) Wototschek & Mr. Pornchai Pannopsri
Director of Information: Mrs. Banyong Gosinet & Mr. Nivat Chainarongpinij